WhatsApp Android to iPhone in 2022? Here is How to Do!
Introduction
If you are someone who is looking to transfer WhatsApp from Android to iPhonebut has no clue how to do it, then keep reading till the end. This book is especially for those who are facing difficulties in doing so. Let's get started and start exploring the ways available for initiating the transfer of files easily.
Part 1: Is WhatsApp Transfer Necessary?
Sometimes we don't think it's necessary to transfer WhatsApp from our old device to our new device. Well, this doesn't make a difference to people who are using it for sharing their status and messages only.
But if you are from a professional background where you need to keep a record, this thing creates a big difference because you cannot afford the situation that may take place just because you have lost the data. In that case, WhatsApp transfer plays a big role, and you need to look out for a tool that will be helpful in doing so.
We cannot deny the fact that technology is changing the face of processes that require so much of our time, and likewise, transferring files from one device to another has become a simple task with applications.
Part 2: The Most Effective Way to Transfer WhatsApp from Android to iPhone
In this section, we are discussing one of the most effective ways available to date that can help you initiate the WhatsApp transfer backup & restore process in one go. Yes, you got it right. Here we are exploring MobileTrans – WhatsApp Transfer.
MobileTrans – WhatsApp Transfer is one such software that comes as a gift to all the users out there who are looking forward to transferring WhatsApp from Android to iPhone. This application has an innovative interface and also allows users to transfer the entire data of the device in just a few clicks. Even a person from a non-technical background can use this application and complete the task easily.
The major features of MobileTrans – WhatsApp Transfer are:
Innovative interface
Both Android and iOS are supported
Safe to use
Takes no time to accomplish the task
Technical skills are not required
It's completely free to download
Steps to using MobileTrans:
We are pretty sure now you might be thinking about how to use this ultimate application. Well, the steps are as follows:
Step 1: Get the "MobileTrans" application on your computer and launch it on your system.
Step 2: Click on "WhatsApp transfer" and select the "WhatsApp" tab.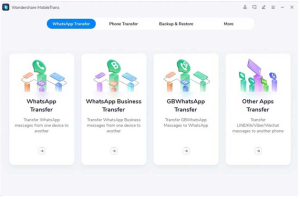 Step 3: Now click on the "transfer WhatsApp messages" feature from here and wait until the feature gets loaded.
Step 4: Connect both the devices with the help of a USB cable to the system and open the application.
Step 5: Check out whether the devices have connected successfully or not. If you wish to change the source and destination, click on the "flip" button.
Step 6: Pick out the files you wish and hit on the "Start" button. Wait until the process is completed.
Step 4: Wait until the transfer gets completed.
Conclusion
Transferring WhatsApp from Android to iPhone is simpler than what you think, but it is important to get a written application for the process. If you are not utilizing the right application, getting the task done will be difficult. However, don't worry, as we have discussed MobileTrans, it is one of the best applications available to date.
This application is compatible with both Android and iOS devices, which simply means that there will be no need to get additional applications to complete the process. All you need to do is just get the application on both devices and start transferring WhatsApp from Android to iPhone or vice-versa easily.