Overview of Call Center Software Prices and Key Features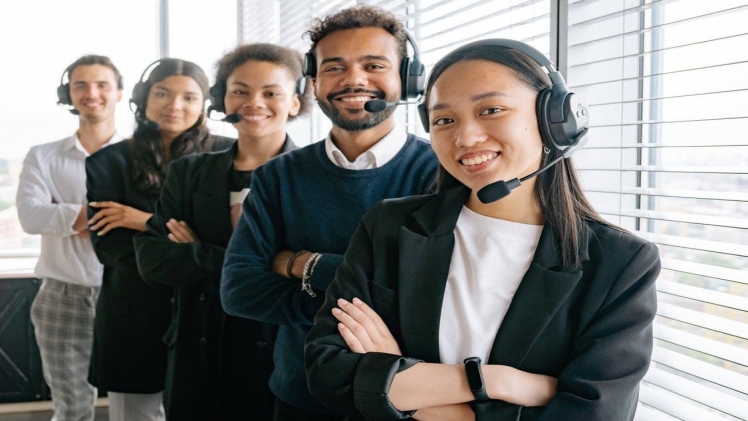 Organizing good customer support should be a priority for any company. العاب اندرويد Customers should have somewhere to go to when they have feedback, complaints or general queries.
This is why call center software is so popular, because it does all the heavy lifting and simplifies the process for you.
What You Need to Look For
Before we get into the best software options on the market. I felt it would be helpful to outline some general pointers for the qualities you should be clear on.
These are:
Ease of use

Whether it's on premises, cloud-based, or browser-based custom software

Explore the features to make sure they suit your company's needs

Make sure it's scalable
1. Bitrix24
An intuitively designed software, Bitrix24 offers all you'll need for customer relations management and it's largely free! While there are paid plans that offer more features, if your focus is on its call center capabilities you don't need to opt for them.
Key Features
Maintain a database for an unlimited amount of customers

Rent out local phone numbers

Call screening

You can record all calls

24/7 operability

Interactive voice response is available
Pricing Plans:
Free!

$19/month – Start+

$55/month – CRM+ (Project+ costs the same)

$79/month – Business Standard

$159/month – Business Professional
2. Zendesk Talk
One of the most widely used software for CRM, Zendesk also has call center functionality under the Zendesk Talk moniker. It keeps all your communication channels centralized to one dashboard so you can keep everything in clear view as you answer calls. It's also capable of integrating with your existing call center.
Key Features
Straightforward ticketing

Calls are recorded

Highly customizable through integrations

Easily connect your support team with other teams

Supports automated replies
Pricing Plans:
$49 – Suite Team

$79 – Suite Growth

$99 – Suite Professional

$150 – Suite Enterprise

Additional Enterprise plans are negotiable
3. AirCall
AirCall is preferred by many companies because it enables the development of your call center without having to rely on any complex or technical guidance. You can intuitively navigate it so you spend less time on onboarding.
Key Features
IVR support

Shared inbox for tagging tickets or leaving comments

Call center

performance metrics

Call queuing

Blacklisting numbers

Call routing
Pricing Plans:
$30/user/month – Essentials

$50/user/month – Professional

Custom plans are negotiable
4. RingCentral
Densely packed with many different features, RingCentral is one of the leaders in the call center software market. Their development places a strong emphasis on skill-based routing and making sure supervisor tools offer value.
Key Features
Manage inbound calls through intelligent routing

Organize agent schedules

Call recording

Self-service features
Pricing Plans:
$19.99/user/month – Essentials

$24.99/user/month – Standard

$34.99/user/month – Premium

$49.99/user/month – Ultimate
5. Avaya
Primarily focused on mobile callers, Avaya has a lot to offer. Even if you aren't receiving many mobile calls, your company can still leverage many useful features. With various AI capabilities, managing calls becomes a cakewalk.
Key Features
Omni channel support

Mobile call detecting

Provide mobile callers with more support (reduce toll charges, self-service, etc.)

Voice bots

Using AI to connect customers with the right agent
visit the site bolly4u

Pricing Plans:
$41/user/month – Digital 

$71/user/month – Voice 

$111/user/month – All Media

For more information click here okpunjab
Conclusion
Overall, each of the listed custom software is a great choice. However when you consider the prices, it becomes easier to shortlist which are feasible and which aren't. لعبة روليت مجانيه Identify which features you need most and then decide the ideal fit. ألعاب الروليت visit here movie4me