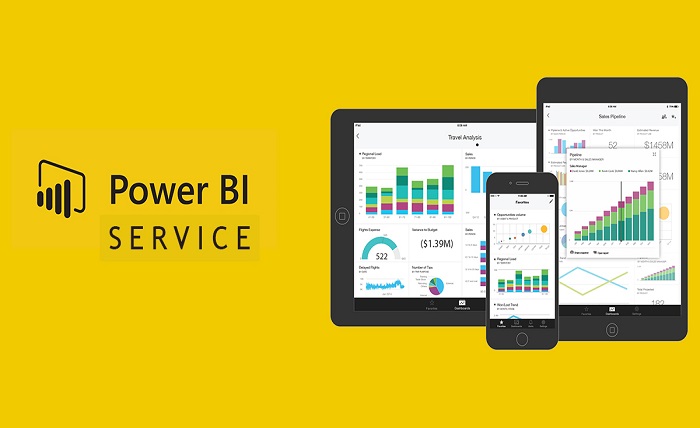 Did you know?
Gartner has ranked Microsoft as a Magic Quadrant leader for the 14th consecutive year in analytics and business intelligence platforms. 
The Power BI cloud service is extremely rich in capabilities that include an improved set of augmented analytics and automated machine learning capabilities. 
In the data-centered world, analytics is crucial for obtaining the hidden results to make everything work smoothly. Analytics is all about discovering, interpreting, and filtering or processing the data. شرح لعبة بينجو Business and data analysts have a multitude of tools to choose from, and it is difficult to find which tool would be best to serve their purpose. 
To fetch appropriate information and interpret it lucidly, choosing effectively serves your role. Many accredited institutes offer the perfect tool to do this job. Where there is data visualization, there is Power BI. 
This article will give you an overview of the most powerful business analytics tool, offered by Microsoft, Power BI. A Power Bi tutorial lets you know all about Power BI, its installation, and usage.
Importance of Power BI
The tagline of Power BI says, 'enable everyone at every level of your organization to make confident decisions using up-to-the-minute analytics'. 
Organizations utilize Power BI to meet their self-service as well as enterprise Business Intelligence requirements. The reasons why organizations rely so much on Power BI are:
It allows you to design and share interactive data visualizations for your findings across global data centers, that include national clouds to meet regulation and compliance needs. 

With Power BI even the non-data-scientists can prepare data, develop machine learning models, and extract insights quickly even from structured and unstructured data; all thanks to advances in Microsoft AI.

With Power BI, you can perform real-time analytics, as with eCommerce sites, on streaming data flows. 

Power BI is built and updated with the latest technologies such as cloud computing, HTML 5.0, column store databases, as well as mobile applications.

It is developed on the top-class BI products available in the market, including Microsoft Excel and SQL Server Analysis Services or SSAS. مراهنات اون لاين

Custom visuals gallery is opened by Microsoft for open source contributions to add value to its community.
What is Power BI?
According to Microsoft, 'Power BI is a collection of software services, apps, and connectors that work together to turn your unrelated sources of data into coherent, visually immersive, and interactive insights.'
It further explains that your data may be in the form of an Excel spreadsheet or it may be a collection of cloud-based or hybrid data warehouses. Power BI allows you to easily connect to the data sources so that you can visualize and identify what is important. 
The best part of BI is that a non-technical user can use all the resources you require to aggregate, visualize, analyze, and share data. Power BI is known to be one of the best drag-and-drop tools available in the market. 
Business Intelligence is all about leveraging software and services to convert data into meaningful and actionable insights such as the organization's tactical and strategic business decisions. 
So, Power BI is a tool that turns raw data into smart plans and actions that can help achieve business benefits at different levels. 
The parts of Power BI
There are several elements in Power BI that all work together with the three basic parts:
A windows desktop application is referred to as

Power BI Desktop.
Power BI service

is an online SaaS(Software as a Service) service.

Power BI

mobile apps

for Android, Windows, and iOS devices.
The three elements of Power BI Desktop, service and mobile apps are so designed that allows you to build, share, and utilize business insights in such a way that serves your role in an effective manner. 
Apart from the three elements listed above, the other two special elements of Power BI are:
Power BI Report Builder

is used to create paginated reports to be shared in the Power BI service.
Power BI Report Server

is an on-premises report server that allows you to publish your Power BI reports after you have created them on the Power BI desktop. 
Working with Power BI
You need to follow a series of steps to transform data from insights to options.
Step 1: Connect to your data
With Power BI you can connect to a wide variety of data sources. To upload your file or import it into Power BI, you can use Power BI Desktop or Power BI services. 
Step 2: Preformat your data
After loading your data, the next step is to shape your data according to your requirements. This transformation of data may include renaming tables or columns, removing rows, changing the text to numbers, making the first row as headers, etc.
Step 3: Modelling of data
This step involves enhancing the data with calculations, relationships, hierarchies, measures, etc that are required to identify insights. You can also opt for writing a query to improve data for better visualization and analytics. This way, data is modeled to be visualized in the next step. 
Step 4: Visualizing the data
This step requires you to play with data to prepare it for visualization. With a wide range of visual tools and a custom visual gallery, you can easily create attractive reports for your organization. So, the departments concerned can mash up the data without the need for coding. You can now share these reports with your senior data professionals. 
Step 5: Publishing data reports
Power BI Services allows you to publish or export reports securely and sets real-time analytics of trends and indicators by setting up automatic data refresh. 
To get a 360-degree view of your business, you can use Power BI dashboards and keep a check on your business. 
Job Opportunities with BI
The versatility and ubiquity of Power BI serve as opportunities for various job roles that include:
Power BI Developer

Power BI Analyst

Power BI Data Analyst

Power BI Business Analyst

Power BI Software Engineer

Senior Software Engineer

Senior Business Intelligence Analyst
How to Make a Career in Power BI?
The best way to get into the field of Power BI is to get trained. There are many accredited institutes that offer training with options of online/training/blended learning models. بينجو اون لاين Typically, they offer self-paced learning, enterprise-class learning management systems, real-life projects, and round-the-clock teaching assistance. In the end, there are doubt sessions as well as career guidance.
Enroll Now!